Edit KI-numbers
Introduction
At any time, you can manually add or remove a KI number of a buddy you already have in your buddylist. Please note there is a much simpler way to add a new KI number to an existing entry.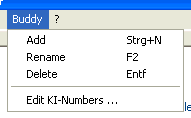 While in the Display modes "Buddy List" select a buddy. In the menu "Buddy", click on the entry "Edit KI numbers" or doubleclick your friend's entry in your buddylist. The window opening now will show you all KI numbers you have already assigned to your buddy.
Assign a new KI number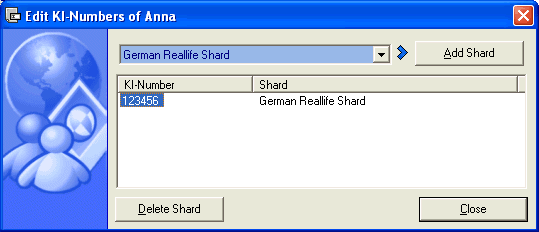 To adjoin a new KI number to a friend, first select the shard on which your buddy has an avatar on from the topmost dropdown list. Now click on the "Add shard" button. This will add a new placeholder entry to the list of your buddy's KI numbers on this shard. Once you have done this, select the new entry and press the F2 button, or just click on it again. You can now add the new KI number into this entry.
Edit a KI number
If you have accidentally assigned a wrong number to such an entry, you are able to correct it at any time. Click on that entry and press the F2 button, or just click on it again in the list to edit the KI number.
Delete a KI number
To delete a Ki number from the list, select the according entry and click the "Delete shard" button or press the delete key.